pies klasy robotniczej
Midas Member
Midas Supporter
Joined

Apr 5, 2010
Messages

5,653
Likes

7,715
Bold Enough To Be Contrarian? Here Is Why We Think Gold Will Jump Next Week
http://seekingalpha.com/article/402...d8f08c2638544ee7eeaf0e24c1f673e&uprof=45&dr=1
Dec. 10, 2016 11:12 PM ET
|
3 comments
|
| About:
SPDR Gold Trust ETF (GLD)
,
SLV
,
IAU
,
PHYS
,
SGOL
,
GTU
,
OUNZ
,
QGLDX
by: Hebba Investments

Hebba Investments
Follow
(6,383 followers)
Long only, value, contrarian, gold & precious metals
Send Message
|
Hebba Investments LLC
Summary
Net speculative gold positions dropped to their lowest levels since January.
While gold speculators have sold positions, US Dollar speculators are at their highest net-long positions since January.
While everyone is pricing a 25 basis point increase at next week's Fed meeting, we believe that the important thing to watch is the post-meeting statement.
We expect the Fed not to want to see further USD strength or higher bond yields, and thus they should issue a dovish statement.
That may be the catalyst gold needs to reverse its five week losing streak and bounce back in price.
Investors saw gold drop for the fifth week in a row during the Commitment of Traders (NYSE:
COT
) report trading week (Tuesday to Tuesday), as the golden metal dropped by around 1% during the trading week. Additionally, what makes this particular report even more significant is that it is the last published report before next week's US Federal Reserve meeting, where everybody is expecting a rate hike. Obviously, in the gold markets traders are positioning themselves for this meeting by closing out long positions and selling gold short.
While we don't normally cover this, we do note that speculators increased positive bets on the U.S. dollar for a third straight week, pushing net longs to their highest since early January. This is very interesting and relevant because gold has been pretty much tracking the US Dollar (it doesn't always do that) and the fact that these speculators are all on the long-dollar side of the trade, makes a very good contrarian case for a fall in the US Dollar index. Could we have a fall in the US Dollar index post-Fed meeting? We think there is a good chance of that.
We will give our view and will get a little more into some of these details but before that let us give investors a quick overview into the COT report for those who are not familiar with it.
About the COT Report
The COT report is
issued by the CFTC
every Friday, to provide market participants a breakdown of each Tuesday's open interest for markets in which 20 or more traders hold positions equal to or above the reporting levels established by the CFTC. In plain English, this is a report that shows what positions major traders are taking in a number of financial and commodity markets.
Though there is never one report or tool that can give you certainty about where prices are headed in the future, the COT report does allow the small investors a way to see what larger traders are doing and to possibly position their positions accordingly. For example, if there is a large managed money short interest in gold, that is often an indicator that a rally may be coming because the market is overly pessimistic and saturated with shorts - so you may want to take a long position.
The big disadvantage to the COT report is that it is issued on Friday but only contains Tuesday's data - so there is a three-day lag between the report and the actual positioning of traders. This is an eternity by short-term investing standards, and by the time the new report is issued it has already missed a large amount of trading activity.
There are many different ways to read the COT report, and there are many analysts that focus specifically on this report (we are not one of them) so we won't claim to be the exports on it. What we focus on in this report is the "Managed Money" positions and total open interest as it gives us an idea of how much interest there is in the gold market and how the short-term players are positioned.
This Week's Gold COT Report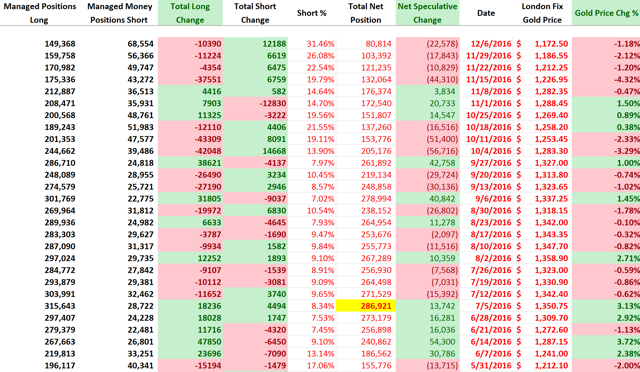 Click to enlarge
This week's report showed a drop in speculative gold positions for a fourth straight week as longs decreased their positions by 10,390 contracts on the week. On the other side, speculative shorts increased their own positions by 12,188 contracts on the week.
Moving on, the net position of all gold traders can be seen below: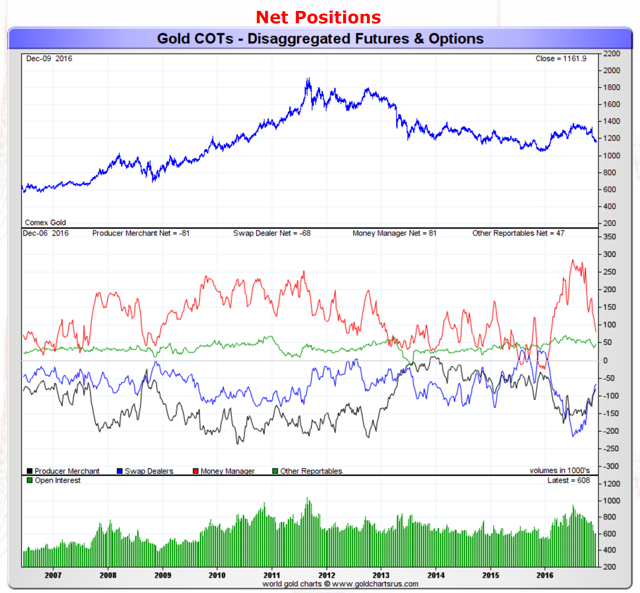 Click to enlarge
Source:
Sharelynx Gold Charts
The red-line represents the net speculative gold positions of money managers (the biggest category of speculative trader), and as investors can see, the decline in speculative traders continued as the net long position fell to some of the lowest levels since early this year. We now see that the net long speculative position has fallen below 100,000 contracts to 81,000 - the lowest levels since January. Clearly the speculative froth is no longer present in the gold market.
As for silver, the action week's action looked like the following: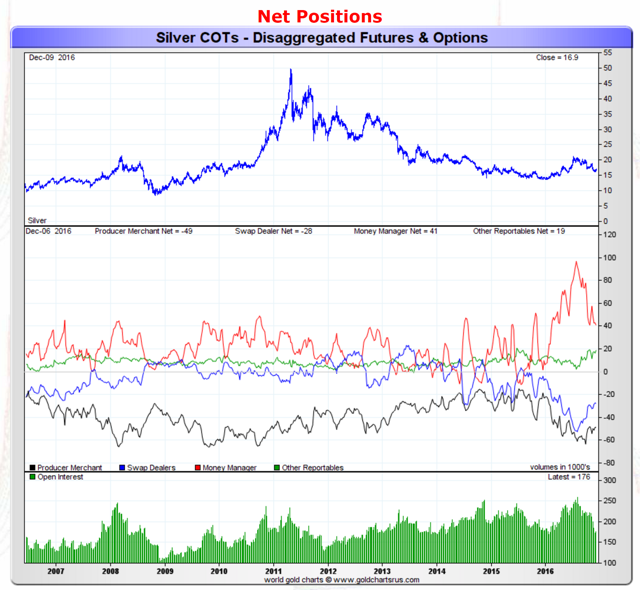 Click to enlarge
Source:
Sharelynx Gold Charts
The red line which represents the net speculative positions of money managers, shows a drop in speculative positions for the week which should be no surprise since silver tends to track gold. But what is interesting here is that silver speculators have been much more bullish on silver and "sticky" with their positions as opposed to gold speculators.
The US Dollar and the Upcoming Federal Reserve Meeting
This was the last published COT report before next week's Federal Reserve meeting and the most significant action may not be in the gold market - it is over in the currency markets. US Dollar speculative net long positions rose to $28.14 billion, which is the third straight week they have rose and US Dollar speculators
are at their highest net-long position since early January
.
We believe it is not coincidence that this is occurring right before the US Federal Reserve meeting, which the Fed has essentially committed to a 25-basis point increase in the Federal Funds rate. While everybody expects the Fed to raise rates (we do as well), there are a lot of speculators playing further US Dollar strength, but we think the surprise for the US Dollar post-Fed meeting will be on the downside - which would probably be good for gold.
Why is that?
It comes down to the post-Fed meeting conference and statement, as the 25-basis point rise is already built into investor expectations. We think the Federal Reserve does NOT want to strengthen the US Dollar OR increase yields on US debt. Bad things happen when interest rates rise, and in a world that is increasingly over-leveraged with a president-elect that has promised massive deficit spending, the last a government wants to see is rising interest rates that could cause problems for both.
After all it isn't just gold falling, here is a chart of the US 10-year bond.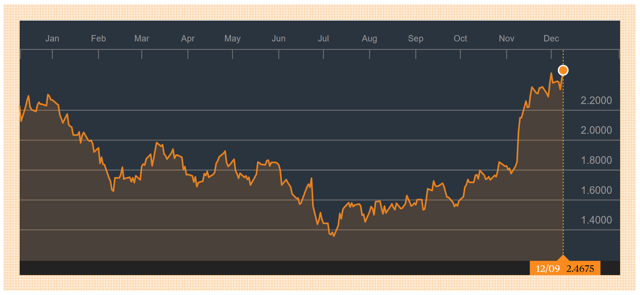 Click to enlarge
Source:
Bloomberg
The market has already raised interest rates, do investors really expect the Fed to issue a very hawkish statement to push bond yields up further? We do not.
While we expect the Fed to raise interest rates, we think the post-Fed statement will be quite dovish and emphasize that rates will rise slowly and with no determined path (i.e. the Fed could lower them again if necessary). We also think the Fed will also emphasize that future rate rises will be based on inflation expectations and the Fed will err on letting the economy "run hot" in terms of inflation to try and avoid deflation. That would essentially mean that even though rates would be rising, real rates may fall as the Fed lets inflation rise.
Our Take and What This Means for Investors
Five weeks of declining gold prices and gold-speculative net-long positions, and a Fed that may surprise with a dovish statement next week sets the stage for a counter-trend jump in gold prices. Frank Holmes of US Global Investors agrees with us and comments that he is waiting for a
mean-reversion in the gold price
:
...gold is looking oversold in the short term and long term, down more than two standard deviations over the last 20 trading days. Statistically, when gold has done this, a return to the mean has often followed. This has been an attractive entry point for investors seeking the sort of diversification benefits gold and gold stocks have offered.
We think the Fed meeting may be that catalyst that cause this "mean-reversion" of an over-sold gold position and an over-bought US Dollar.
With all the bearish sentiment in gold, we think it is highly likely we see a turn-around in the gold price next week simply as a contrarian play. Everybody is net-long the US Dollar and abandoning gold positions means to us that it would take an extremely aggressive Fed statement to continue the trend - and we simply do not see the Fed wanting to push bond yields higher.
Thus we think this is an excellent time for short-term traders to go against the grain and look for that bounce in gold. Thus if investors haven't started re-accumulating gold we think that now is a great time to but gold and ETF's such as the SPDR Gold Trust ETF (NYSEARCA:
GLD
), ETFS Physical Swiss Gold Trust ETF (NYSEARCA:
SGOL
), iShares Silver Trust (NYSEARCA:
SLV
), and quality precious metals miners and explorers.
Disclosure:
I am/we are long SGOL, SIVR.
I wrote this article myself, and it expresses my own opinions. I am not receiving compensation for it (other than from Seeking Alpha). I have no business relationship with any company whose stock is mentioned in this article.