Hunter of Chin Li's Boo Hoo Flu
Founding Member
Board Elder
Site Mgr
Midas Supporter ++
Joined

Mar 25, 2010
Messages

31,499
Likes

44,092
ETF Bullion Holdings Hit Record As Investors Go Gold Crazy
Simon Constable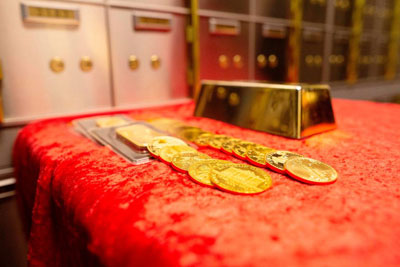 Examples of gold bullion (right) are on show at Merrion vaults in Dublin on January 7, 2019. - In a vault under the streets of Dublin a pot of gold owned by anxious investors is growing every day Britain edges closer to leaving the EU without a deal.
Investors can't seem to get enough of exchange-traded gold funds.
In September, gold-backed ETFs and similar funds snapped up an extra 75 metric tons of the metal worth almost $4 billion, according to a report published Tuesday by World Gold Council.
The mass inflow brings the total gold held in such ETFs to a record-breaking high of 2,808 tons worldwide worth $134 billion. These funds include the SPDR Gold Shares ETF (GLD), which is the world's largest and most liquid gold-backed fund, which grabbed 43 tons more bullion during the 30 days.
Despite those inflows the price of the metal suffered over the month. At the beginning of month one troy ounce of the metal would cost you $1,529, but by the end the price had fallen to $1,472,
according to Bloomberg data
. One ounce of bullion was recently fetching $1,504.
North America Leads the Way
September's inflow came primarily from investors in North America, where 62 tons of the metal got added. Investors in Europe and Asia purchased eight and four tons, respectively.
The trigger that gave investors some fever was concerns over how central banks, such as the Federal Reserve, might change the cost of borrowing money.
The WGC report states:
"During the month, global monetary policy continued to influence gold price performance as many central banks around the world cut rates or expanded quantitative easing measures."
Put simply, central banks lowered borrowing costs, and that made gold more attractive to investors. That's because lower interest rates for dollar deposits may cause inflation.
"Weak data in the US, Fed easing and further declines in real rates are supportive for gold," states a recent research report from Swiss bank UBS. The less-than-robust data to which it referred was the drop in the ISM manufacturing survey to its lowest level in 10 years.
The ISM survey, which measures the health of the factory sector,
showed a second straight month of contraction
. In turn that should augur lower borrowing costs.
"The [interest] rates market is now pricing in a higher probability of another rate cut before the year ends, possibly by the end of this month, and our economists similarly raise this potential, the report continues.
In other words, more interest rate cuts are likely coming and that should help boost gold prices.
Follow me on
Twitter
or
LinkedIn
. Check out my
website
or some of my other work
here
.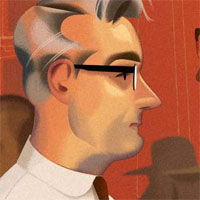 ​
​
Simon Constable | Author | Broadcaster | Journalist | Commentator | Speaker. Author of The Wall Street Journal's 'In Translation' column. Fellow at the Johns Hopkins Institute for Applied Economics, Global Health and the Study of Business Enterprise. Former staffer for General Motors Treasurer's Office. MBA from Darden Graduate School of Business at The University of Virginia. MA New York University. MA (Hons) University of St. Andrews, Scotland. Co-author of the award-winning book The WSJ Guide to the 50 Economic Indicators that Really Matter. Have written for Middle East Eye, TheStreet.com, The South China Morning Post, Barron's, Dow Jones Newswires, MarketWatch​
​
http://www.silverbearcafe.com/private/10.19/crazy.html