This is interesting:
Extremely low pressure stops air traffic over northern Norway for first time ever
Atle Staalesen
The Barents Observer
Tue, 11 Feb 2020 20:55 UTC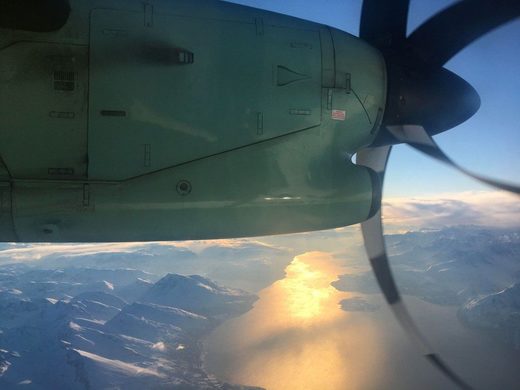 © Atle Staalesen
FILE PHOTO: No flying over northern Norway early this week.
Extremely low pressure brought down air traffic over northern Norway
Airline company Widerøe has in its almost 90 year history never experienced this kind of weather
.
The past months have seen extraordinarily rough weather along the north Norwegian coast. Early this week came another extreme. The air pressure dropped to a level not seen in several decades.
According to the Norwegian meteorological institute, the air pressure across major parts of the region was below 940 hectopascal, a level that makes flying unsafe.
The Widerøe company that serves most of the regional routes put almost its whole aircraft fleet on the ground.
«Our smallest aircraft type Dash 100, 200 and 300 can not fly with pressure lower than 948 hectopascal,» the company informs
on it Facebook page
.
More than 2,000 passengers were affected by the weather conditions. Only on Tuesday afternoon did the pressure return to a level that allows aircraft to operate normally.
The low pressure also resulted in high waters levels along the Norwegian coast. In Tromsø, the north Norwegian town, the sea water was on Tuesday 354 cm higher than normal
,
the Meteorological Institute informs
.
------------------------------------------------------------------------------------------------------------------------------------------------------------------------------------------------
Compare the above article with this just a few weeks prior over UK and much of Europe:
UK approaches highest atmospheric pressure reading since 1957
Marko Korosec
Severe Weather
Mon, 20 Jan 2020 11:07 UTC
​
Numerous stations have recorded around 1050 mbar across southern England and Wales overnight, almost up to 1049 mbar in southeast Ireland.
Atmospheric pressure continues rising across central Europe and the Balkans where 1047-1049 mbar has been reported this morning.
Very high near record-breaking values also across Benelux!
Here are the night peak pressure readings:
Ireland:
Apparently, the highest surface pressure in Ireland peaked at 1048.7 mbar in Johnstown Castle in the extreme southeast part of the country. The highest atmospheric pressure ever recorded in Ireland is 1051.9 mbar in Valentia, Co. Kerry.
United Kingdom:
According to the Met Office, the station in Mumbles Head, Wales has recorded the highest pressure of 1050.5 mbar last night, just shy below the record of the 1050.9 mbar recorded at Benbecula on Jan 16th, 1957. The UK record is held at 1053.6 mbar in Aberdeen (Scotland) on Jan 31st, 1902!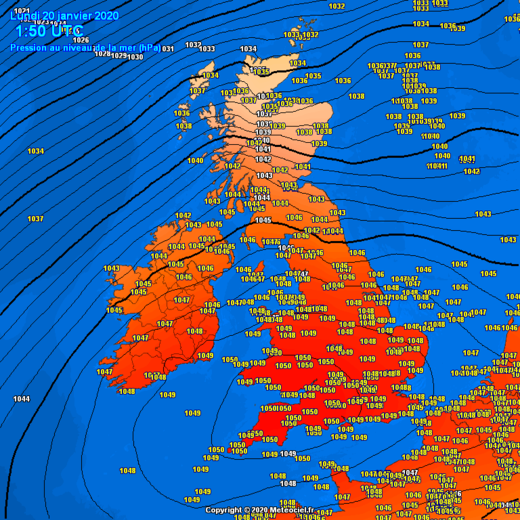 The high-pressure system is now expanding and still strengthening across central Europe and the Balkans, resulting already in around 1047-1049 mbar over Germany, around 1050 mbar over Benelux! Based on the statistical records, they may have been broken over Benelux - we are awaiting final confirmations throughout this week.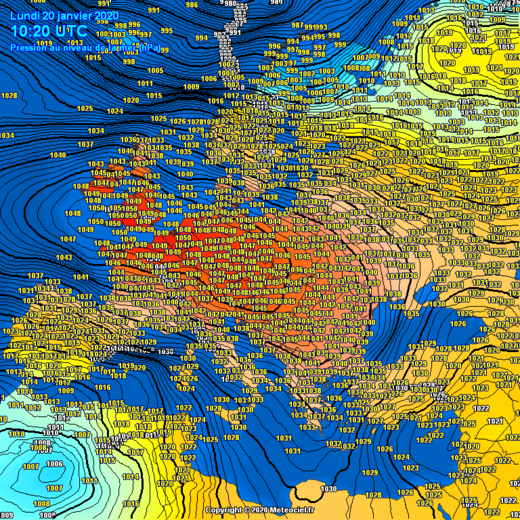 Here are some of the highest values ever recorded in west and central European countries:
Belgium: 1048 mbar in Uccle on Jan 27th, 1932
Luxemburg: 1047.2 mbar at the Luxembourg Findel Airport on Dec 27/28th, 2016
Netherlands: 1050.0 mbar in De Bilt, Utrecht on Jan 26th, 1932
France: 1048.9 mbar in Pointe de Chémoulin, Saint-Nazaire Loire-Atlantique on Mar 3rd, 1990
Germany: 1060.8 mbar in Greifswald, Mecklenburg-Vorpommern on Jan 23rd, 1907
Austria: 1050.5 mbar in Vienna on Jan 16th, 1882
Czechia: 1050.3 mbar in Brno on Jan 23rd, 1907
For the whole European continent, the highest observed air pressure record is held at 1067.1 mbar, observed at two locations (Pärnu, Estonia and Riga, Latvia) on 22nd-23rd January 1907!
The surface pressure has peaked over western Europe and is now is gradually weakening trend while pressure readings continue to rise over central Europe and the Balkans. There, it will peak tonight and could locally push the highest records into 1048-1050 mbar range as well: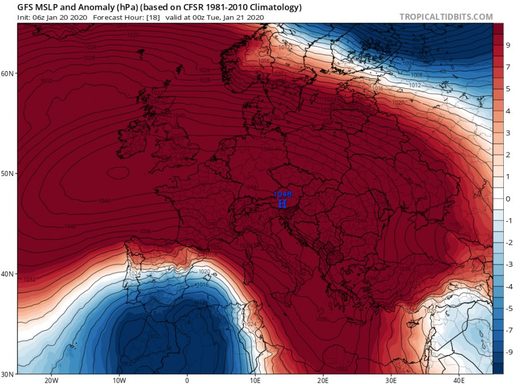 See the previous discussions:
Jan 19th, evening UPDATE: surface pressure readings across UK Wales and Ireland are reporting 1048-1049 mbar and rising - *above 1050 mbar* expected tonight