Hunter of Chin Li's Boo Hoo Flu
Founding Member
Board Elder
Site Mgr
Midas Supporter ++
Joined

Mar 25, 2010
Messages

33,693
Reaction score

50,260
Gold Snaps Back to Bull Market as Prices Surge on Haven Demand
Kevin Crowley
CrowleyKev
March 3, 2016 — 4:15 PM CST Updated on March 4, 2016 — 5:00 AM CST
Gold cruised to a bull market, heedless of rebounding stock markets, as traders expect central banks to curb yields on other investments in an effort to spur economic growth.
The metal is up more than 20 percent since a December low, the common definition of a bull market, outpacing all major assets. Gold rose 0.7 percent to $1,272.95 an ounce by 10:55 a.m. in London, touching a monthly high, according to Bloomberg generic pricing.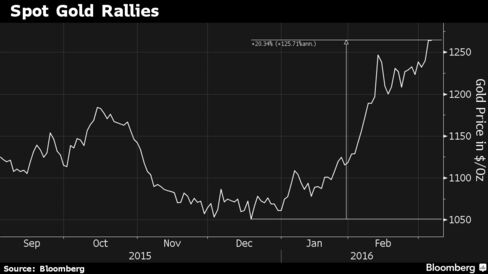 "The rally has mainly been on the repricing and changing expectations regarding central bank policy," Jens Pedersen, a Danske Bank A/S analyst in Copenhagen, said by phone. The European Central Bank and Bank of Japan may ease policy further, while the U.S. Federal Reserve could postpone any further interest rate increases, he said.
Looser policy and the lower rates on securities that tend to follow add to the appeal of gold, which yields nothing. The metal is also a haven in times of crisis and slow growth. Investors are awaiting data on U.S. non-farm payrolls that will offer further insight into the health of the world's biggest economy and the trajectory of interest rates.
"Although gold is very much driven by Fed policy, the impact of ECB policy decisions may become increasingly relevant for gold price action, as concerns about negative interest rates gain traction," Joni Teves, a strategist at UBS Group AG, said in a note on Friday. "We think negative interest rates should be positive for gold."
ETF Buying
Bullish sentiment in gold is reflected in exchange-traded funds. Investors raised holdings in gold-backed ETFs by 259 metric tons so far this quarter, set for the biggest quarterly gain since June 2010. Holdings are rising after three straight years of withdrawals.
Gold rallied Thursday as weaker-than-expected U.S. factory orders and slower growth in service industries boosted demand for a haven. Growth in U.S.
service industries
slowed for a fourth month in February, prompting the first job cuts in two years, according to a report by the Institute for Supply Management. The group's employment measure dipped below the expansion threshold for the first time since February 2014. Applications for jobless claims unexpectedly climbed last week, a Labor Department report showed.
"There's definitely a fear factor out there," said John Meyer, an analyst at SP Angel Corporate Finance LLP in London. "Investors are getting back into gold."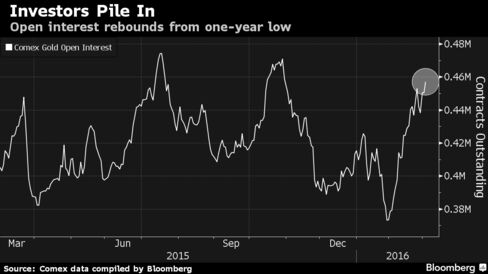 Open interest, a tally of outstanding contracts in Comex futures, rose to the highest since October. That suggests investors increased bullish positions and prices may rise, said Tai Wong, director of commodity products trading at BMO Capital Markets Corp. in New York.
http://www.bloomberg.com/news/artic...o-bull-market-as-prices-surge-on-haven-demand