Hunter of Chin Li's Boo Hoo Flu
Founding Member
Board Elder
Site Mgr
Midas Supporter ++
Joined

Mar 25, 2010
Messages

31,682
Likes

44,566
Gold Stocks Take Flight
BY Paul Wong | Tuesday, May 5, 2020
Gold bullion continued to deliver strong performance and was up 11.15% YTD through April 30, 2020, and 31.39% YOY. At the same time, gold mining equities (SGDM)1 have gained 13.81% YTD, and 58.67% YOY as of April 30. This compares to -12.36% YTD and -7.91% YOY returns for the S&P 500 Index.
Month of April 2020
Indicator
4/30/2020 3/31/2020 Change % Chg
Analysis
Gold Bullion
$1,687
$1,577
$109.32
6.93%
Bullion rising on physical demand
Silver Bullion
$14.97
$13.97
$1.00
7.13%
Price recovering from March sell-off
Gold Equities (SGDM)1
$28.61
$19.86
$8.75
44.06%
Gold equities surging and breaking out
Gold Equities (GDX)2 $32.26 $23.04 $9.22 40.02% same as above DXY US Dollar Index3 99.02 99.05 (0.03) (0.03)% Elevated but stable U.S. Treasury 10 YR Yield 0.64% 0.67% (0.03)% (4.51)% Yields remain low as QE takes hold German Bund 10 YR Yield (0.59)% (0.47)% (0.12)% (24.42)% Deeper negative yields reasserting U.S. Treasury 10 YR
Real
Yield (0.44)% (0.26)% (0.18)% (67.40)% Negative real yields stabilizing lower Total Negative Debt ($Trillion) $12.03 $10.56 $1.46 13.84% Long term heading higher CFTC Gold Non-Comm Net Position4 and ETFs (Millions of Oz) 124.27 117.38 6.89 5.87% Gold ETF buying accelerating
Markets Recalibrate
Capital markets and society continue to recalibrate from the enormity of the fallout of the COVID-19 pandemic. As difficult as the current situation is, gold fundamentals continue to improve. Gold, as an investment, offers a hedge against the current financial turmoil and has significant capital appreciation potential in the years ahead.
The magnitude of central banks and government actions over the past several weeks will resonate for the rest of this decade. In our March commentary
(March Roars in Like a Lion)
, we mentioned that we are now in the "end game" where debt explodes in the face of a financial calamity (although no one predicted that it would be a pandemic). We will discuss what near-term options the U.S. Federal Reserve ("Fed") will likely implement, and how gold is likely to respond. We will also look at the recent move higher for gold mining equities.
Gold Bullion: Increased Demand for Physical Gold
Gold bullion ended April at $1,687, adding $109/oz, or +6.9% for the month. Gold began its surge in early April as physical delivery shortages resulted in gold futures (COMEX, New York) trading wildly higher than spot gold (London). COVID-19 has caused refining capacity for gold to decline and greatly restricted the transport of physical gold from London to New York. Typically, gold futures trade fairly tight with spot gold due to arbitrage, but in early April, the spreads spiked as high as $70/oz.
The unprecedented fiscal and monetary policy response to the worst economic shock since the Great Depression has put gold squarely into investors' minds.
Gold is almost always in contango (longer-dated contracts are more expensive than the near month). In April, parts of the gold futures curve traded in a rare backwardation (the near month contract is more expensive), usually indicative of a supply shortage. With the usual gold channels disrupted, futures are pulling spot prices higher as short positions are closed by going long futures. Compounding the disruption was the growing demand for gold in physical form, fueled by soaring investor buying interest. The unprecedented fiscal and monetary policy response to the worst economic shock since the Great Depression has put gold squarely into investors' minds.
Figure 1. Gold Bullion Surges above March Lows
Our short-term target is $1,800, and we expect to reach new all-time highs.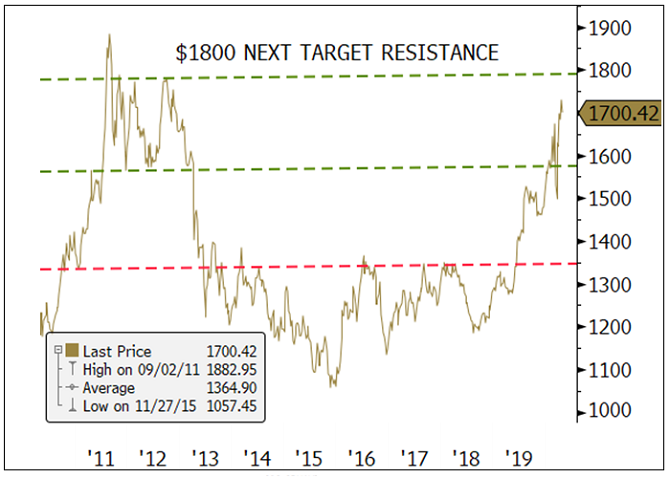 Source: Bloomberg. Data as of 4/30/2020.
Gold Mining Equities: Convincing Breakout in April
Gold equities broke out of a multi-year resistance level on massive buying flows. Using the NYSE Arca Gold Miners Index (GDM)5 as a reference, the 860 index resistance level was taken out convincingly. As shown in Figure 2, there is very little meaningful resistance until 1,200 (+25%). In March, gold equities, like bullion, experienced a forced liquidation event. Selling in GDX forced the ETF to trade at a significant discount to its underlying net asset value (NAV). Like many other ETFs, the selling volumes in GDX outpaced the liquidity in the underlying securities. Off the lows, the price action as measured by volume, breadth and money flow far exceeds the bullish thrust of the 2019 summer rally. This breakout, without question, is impressive on the technical measures.
Figure 2. Gold Mining Equities Track Gold Higher
The NYSE Arca Gold Miners Index (GDM) has broken out of a broad base pattern; our short-term target is 1,200.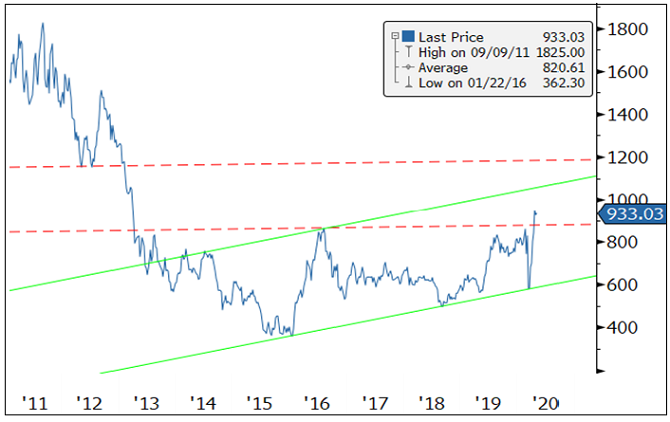 Source: Bloomberg. Data as of 4/30/2020.
The absolute price action is impressive, but when measured relative to the S&P 500 Index6 (Figure 3), the chart pattern looks even more impressive. Typically, new market leadership is more evident when measured against the broad market index. As shown in Figure 3, the NYSE Arca Gold Miners Index (GDM) relative to the S&P 500 Index has put in a very bullish bottom base pattern. There is a double bottom pattern set up with the right bottom shaping a head and shoulder breakout pattern. This bullish pattern within a bullish pattern is a very positive sign.
more:
https://sprott.com/insights/gold-stocks-take-flight/#