Mother Lode Found
Sr Site Supporter
Mother Lode
Joined

Mar 31, 2010
Messages

18,708
Reaction score

19,080
180.00 each but must buy case of 18.
Mosin Nagant M91/30 Rifles For Sale Again!
Rifles are In-Stock and Ready to Ship!

Click Here to See All Available Mosin Nagants!
Rifles By The Crate are No Longer Available
Here's The Deal
Are you an M91/30 rifle Lover ?

Do you like to Open Sealed Rifle Crates and See What's inside ?

Do you like to Stack Em Deep and Sell Em Cheap ?

If you have answered yes to any of these questions have we got a deal for you.

M91-30 Rifles Straight From the Crate



Now Selling Crates of 6 rifles - minimum order is 3 crates (18 rifles). Cost is $180.00 per rifle (same as our sold out crates of 20 rifles)
6 Rifle Mini Crates are SOLD OUT!
***
NOTE: 20 Rifle Crates Previously Offered are Sold Out***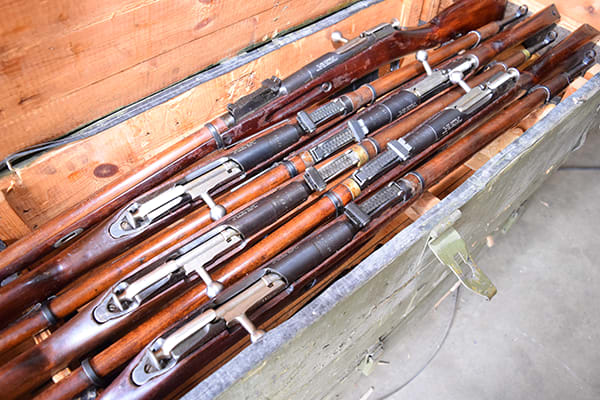 Check Out the Unboxing Video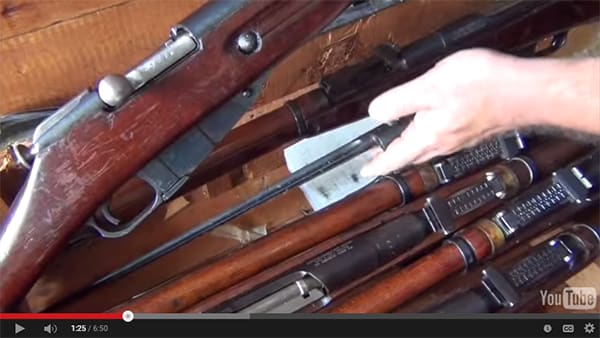 We originally mentioned in our Brutus description section of the M91/30 ad that we had received some of the rifles in this last shipment in crate configurations that we had never seen before.
We were long familiar with the 20 piece rifle crates (of which we are now sold out) containing the arsenal refinished rifles, but this time we received about 25% of our rifles packed in a 6 gun crates that we have never encountered.
These wood crates are far smaller than the 20 piece crates and each one contains six M91/30 rifles.
Now that we are out of the crates of 20 that we had allotted for sale, we have decided to offer these 6 rifle crates as for sale with a minimum order of 3 crates (18 rifles)….
We are offering these by the crate and will ship up to 60 rifles ( 10 Crates ) per pallet if desired.
The minimum order is 18 rifles (3 Crates) and rifles must be ordered in increments of 6 thereafter. The minimum is due to the crates having to ship truck line (instead of UPS Ground) and it would not be cost effective to pay truck line for only a crate of 6 rfiles. Also, these are now replacing our previously offered and sold out crates of 20 rifles.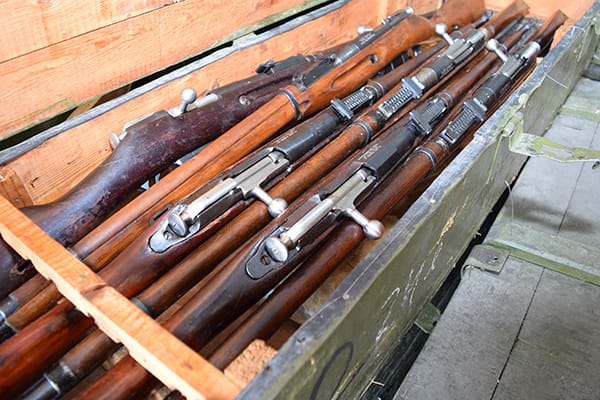 Watch the Video of Ben Looking for Ugly Rifles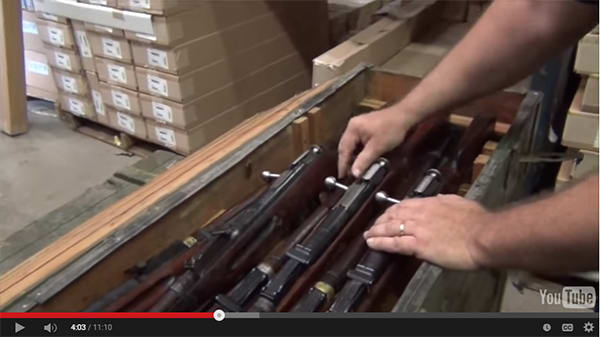 All rifles will ship with a bayonet but no other accessories are provided, however, just like our original 20 rifle crates all 6 rifles in each crate should have consecutive importer serial #'s. Some bayonet serial #'s may match the original serial #'s on the rifles in the crate however, this is not guaranteed. They will come to you, exactly like they came to us.
The crates have not been picked through and thus you could find Tula manufactured rifles, hex receiver rifles, MO marked rifles, Dragoon era rifles, etc.
They will have varying degrees of wear and usage. Some will look very good, and others will have numerous scratches, and dings and you may on rare occasion even encounter a slight crack in a stock. As for the bluing on the rifles and metal finish. Overall it seems to be running about 80% or better, however, we have seen some with a lot of bluing wear and even some with light pitting or rust and we have no way of knowing what is under the stock.
In every group of surplus we receive we get at least one complaint from someone saying, " Hey, I think I must've gotten the ugliest rifle in the bunch " Now while we our sympathetic to that, our response is typically, yeah, you probably did. It it simply a fact of life when dealing with surplus and it is the risk you take when you purchasing it. In every group of surplus firearms there is a best one and a worst one, with all the others being somewhere in between. Rest assured that there are going to be some ugly rifles in this group. If you order a qty, you will probably get some very good rifles with very few flaws, and some ugly rifles with lots of flaws, with the majority being somewhere in between.
No returns are accepted on any crate orders of rifles. Please see our images and video to get a realistic idea of the condition of these rifles.
* Note - To avoid confusion with our other M91/30 rifles we are not offering these rifles for individual sale at this time. The only way you can currently purchase these is by the crates.
How to Order these Rifle Crates - $180.00 per rifle, 6 rifles per crate, 3 crate (18 rifles) minimum order
6 Rifle Mini Crates SOLD OUT!
NOTE:
Coupon/discount codes cannot be used on crate orders.
Simply e-mail janet@classicfirearms.com and provide the following 4 items...

1. The number of crates of rifles you would like to order. Minimum = 3

2. The number of crates of ammo you would like to order (880 rds per crate).

3. The zip code to where you will have the order shipped (this would be the FFL or C&R zip code).

4. Whether the crates is being shipped to a residence or a commercial location.

Once we have the above info, we will be able to email you a shipping quote. Once you approve the shipping quote, we will then call you to place the order via phone.
NOTE: The crates are shipping containers just like cardboard boxes are for individual rifles. We are only selling you the rifles inside of the crate. There is no cost for the "crate" itself. Please do not contact us upset because your crate is not suitable for building a coffee table ;-)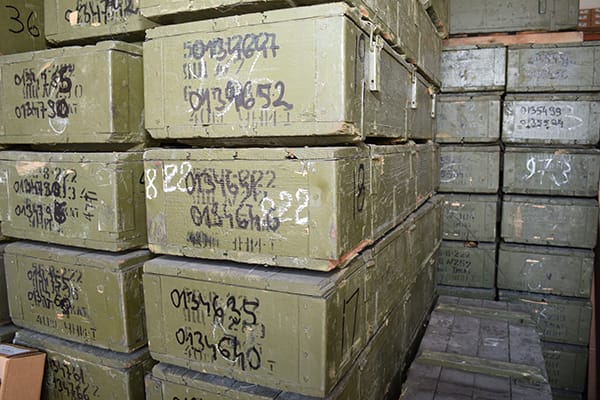 Now - Even More About The Rifles.
These are Russian made M91/30 Mosin Nagant Rifle 7.62x54r caliber, 5 round Bolt Action. Mother Russia's most historically proven early battle rifle and the most popular selling rifle by far in the 25 year history of our company. They have a reputation for being reliable, hard hitting, and extremely accurate. The 7.62x54r round was the Warsaw Pact heavy caliber from the early 20's until modern day, so surplus ammunition is very plentiful and extremely affordable. This renown cartridge is more powerful than a .308 and ballistically rivals our 30/06 caliber. This round is more than adequate for harvesting any big game animal in North America.
Rifle is extremely accurate up to 300 plus yards with open sights and is capable of accuracy out to 1000 yards with proper optics. Without a doubt the Mosin Nagant M91/30 rifle provides by far the most bang for the buck of any rifle on the market today. Here you have a rifle capable of taking any big game in North America at respectable yardage, fires affordable ammo, and can still be obtained for less that the price of a high end pellet rifle. No wonder we have sold thousands upon thousands over the past 25 years.
The Mosin Nagant is a rifle that carries tremendous historical significance and the future ability to be abe to bring these fine rifles into the U.S. or even to get them out of their home country is uncertain... Get yours today!
What About The Ammunition?
Remember - If you are ordering a crate of rifles anyway, it is a great time to stock up on ammo. Adding cases of ammo to a pallet already going truck line adds little to the shipping and is a great way to save money while you stock up.
The Best Ammo Deal on the Finest Quality 7.62x54r Ammo Anywhere Is Right Here
Romanian 7.62x54R Silver Tip Ammo
SOLD OUT!
Surplus Romanian 7.62x54R ammunition. Manufactured in the late 1970's to early 1980's. Features a 148 grain mild steel core, silver tip, full metal jacketed bullet, copper washed steel case, and berdan primer. Packaged 440rds to a sealed "spam" can, and 880rds to a wooden crate as pictured.
As with most surplus 54r ammo this ammunition does have some mildly corrosive components so remember to clean your weapon after firing.