In GIM since 2006
Gold Chaser
Site Supporter
Joined

Mar 30, 2010
Messages

2,629
Likes

2,662
The FED will be busy buying government debt because there will be much more debt and few other buyers.
The Potential $54 Trillion Cost Of The Fed's Planned Interest Rate Increases
By Daniel R. Amerman, CFA
The United States national debt is currently about $20 trillion, and the federal government is paying some of the lowest interest rates in history on that debt. The Federal Reserve has raised interest rates five times now, and is publicly considering another seven increases between 2018 and 2020, for a total increase of 3%.
What will be the impact on the national debt and deficits if the interest payments on the debt jump upwards because of the actions of the Fed?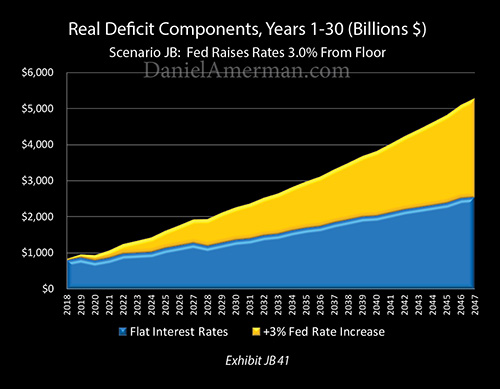 As shown in the graphic above and as will be developed in this analysis, the Federal Reserve increasing interest rates will have a building and eventually explosive impact on the annual deficits that are run by the federal government. The blue area shows what annual deficits would be if the Fed were not raising interest rates, and even in inflation-adjusted terms those would eventually climbing to over $2 trillion a year anyway, primarily as a result of increasing Social Security and Medicare costs.
The yellow area is the increases in deficits that occur solely as a result of the increases in interest rates. As can be seen, the initial impact is small, but the damage quickly escalates. Near $2 trillion a year deficits are now reached in ten years, and then rapidly increase to over $3 trillion, then over $4 trillion, then over $5 trillion a year by 2046. In later years, this is more than twice what the deficits would be without the rate increases.
The increase in deficits sends the national debt soaring upwards - even as the interest rates paid on those larger debts are higher than they otherwise would be. This then creates a compound interest problem for the United States government. As analyzed herein,
the Fed increasing interest rates by itself could increase the national debt by an additional $54 trillion in thirty years
(in nominal dollars).
A nation that is $20 trillion in debt has fundamental constraints when it comes to interest rates that would not exist at lower debt levels. These constraints are likely to have a powerful influence on future yields and prices in all the major investment categories, including stocks, bonds, real estate and precious metals.
More detail at:
http://danielamerman.com/va/macro/RateRise.html