http://seekingalpha.com/article/198121-checking-in-on-the-trade-of-the-year-long-silver-short-treasuries?source=feed

Checking In on the Trade of the Year: Long Silver, Short Treasuries


I noted the following on January 10, in a Words from the Wise review:
Will we perhaps look back at these assets [referring to bonds and silver] a year from now and see one of the worst and one of the top performers respectively for 2010? A long silver, short Treasuries trade makes perfect sense to me.
​
I have on a number of occasions since highlighted bearish articles on Treasuries (U.S. bonds – the end of a 30-year bull market and Government bonds – what's up?) and bullish articles on gold (The gold bulls are right – inflation is on the up and a host of earlier posts). Although I have not recently written anything specifically about silver, I regard silver as gold's high-beta cousin, with a very favorable set of demand/supply statistics to boot.
How has this "Trade of the Year†performed since the beginning of 2010? Let's turn to the scoreboard: The year-to-date returns show silver (+9.0%) clobbering 10-year Treasury Notes (+0.3%), although the Treasury short position on its own is under water. The relative strength of silver versus the price of Treasuries is shown in the chart below (upper portion). A rising trend line indicates silver outperforming Treasuries, whereas a declining line shows the opposite. After initial underperformance, silver turned the tables from early February onwards.
Click to enlarge: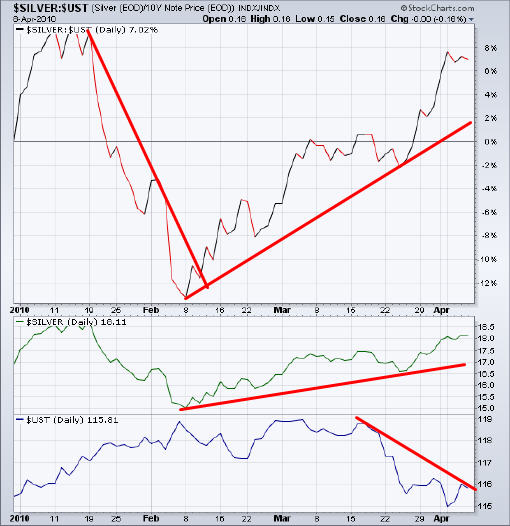 Source: StockCharts.com
Just in case you are wondering whether this is all theory, I actually implemented the trade in practice at the time of mooting the idea. However, I have opted for a somewhat more aggressive strategy, buying leveraged (2x) ETFs, namely the ProShares Ultra Silver ETF (AGQ) and the ProShares UltraShort 20+ Year Treasury Bond ETF (TBT). The results of the geared trade are shown in the graph below, reflecting AGQ up by 13.6% and TBT down by 2.4% since the start of 2010.
Is it too late to still do this trade? Probably not, but given the strong rise in yields over the past few weeks and the surge in the price of silver, it is advisable to build the position in increments whenever markets correct.
Speaking of "correct†– it's time to work off some of my eating extravagance while traveling, and I will therefore now submit to my usual La Jolla torture session of jogging down the steep Torrey Pines hill to La Jolla Cove (that part is bliss), and then changing to low gear to crawl back to the Lodge at the top (the grueling part). Yes it's crazy, but necessary when your motto is "living to run, running to live†(from Bob Seger's Against the Wind).
<script type="text/javascript">SeekingAlpha.Initializer.LogAndRun(load_article_toolbar);</script>
About the author: Prieur du Plessis