Hunter of Chin Li's Boo Hoo Flu
Founding Member
Board Elder
Site Mgr
Midas Supporter ++
Joined

Mar 25, 2010
Messages

32,742
Likes

47,723
Oil Rally: Early Reaction To Rising Inflation?
By
Michael Ashton
Market Overview
Apr 27, 2016 06:11AM ET


Michael Ashton
I am sure that in my career I have seen weirder reactions. But when the
Durable Goods number
came out yesterday and plainly was significantly weaker-than-expected and energy
rallied
, I must admit it was hard to think of one.
Presumably the reaction was an indirect one: weaker growth means the Fed is less likely to tighten, which means a lower
dollar
and hence, higher global demand for
oil
. But that seems a wild overthink. If there is a recession in the offing, and if we care about demand in oil markets (and I
think
we should), then weak economic growth from one of the world's largest economies probably ought to be reflected in lower oil prices.
There is part of me that wants to say "maybe investors have finally realized that any given month of Durable Goods Orders is almost meaningless because the volatility of the number makes it hard to reject any particular null hypothesis." I haven't done this recently, but many years ago I discovered that a forecast driven by the mechanical rule of -0.5 times last month's Durables change had a better forecasting record than Street economists. Flip the sign, divide by two. However, I don't really think the market suddenly got wise.
I also don't think it's that a bunch of people got the
API report
, which came out at 4:30pm yesterday to subscribers only, early. That report supposedly showed a large draw in crude inventories when a build was expected – but I'm not into conspiracy theories. That would be too obvious, anyway.
The perspective of analysts on Bloomberg was that the oil market will "rebalance" this year, a point which isn't very far from the point I made last week in my article "
Don't Forget Oil Demand Elasticity!
" But rebalancing doesn't mean that prices should go higher. They have, after all,
already
gone quite a bit off the lows.
By our proprietary measure, the real price of oil is at a level which implies a 10-year expected real return of about 1% per annum. In other words, it's within about 10% of fair value quantitatively; given the immense supply overhang that doesn't seem to promise lots of upside from these levels.
It isn't just energy. The
Bloomberg Commodity Index
is 15% off its January lows (see chart below, source Bloomberg). Precious metals, industrial metals, softs, grains, and meats are all above their lows of the last 1-2 quarters.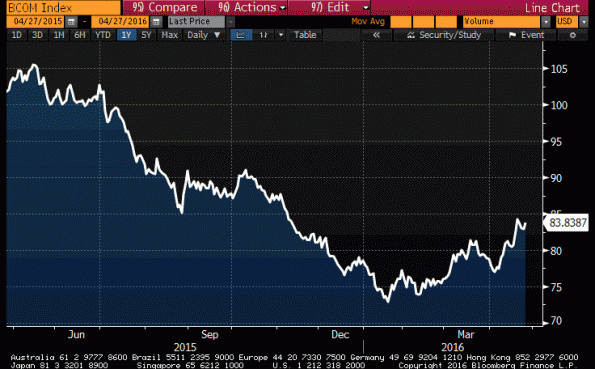 BCOM Daily
Unfortunately, much of this is simply a function of the dollar's retracement. The chart below (source: Bloomberg) shows the Bloomberg Commodity Index (left axis, inverted) against the broad trade-weighted dollar. Heck, arguably commodities are still lagging.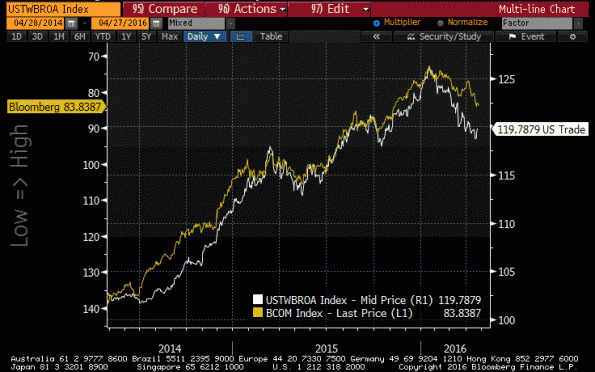 BCOM Inverted vs Trade-Weighted USD 2014-2016
But the winds of change do seem to be about. Last week, the Treasury auctioned 5y TIPS; though this isn't an event in and of itself, the fact that the auction was
strongly
bid is certainly unusual. The 5y TIPS are a difficult sell.
People who are concerned about inflation are typically looking to protect against the long-term. But TIPS also represent real interest rate risk, and if you think inflation is going to be rising near-term then you probably don't want to own lots of interest rate risk. Sure, you'll prefer inflation-linked real rates to nominal rates (see my timely comment from January, "
No Strategic Reason to Own Nominal Bonds Now
": since then, 10y real yields have fallen 40bps while 10y nominal yields have fallen 7bps), but if you
really
think inflation is about to rear its ugly head then you don't want any real
or
nominal duration but only inflation duration.
And inflation duration has lately been doing really well. The chart below (source: Bloomberg) shows the marked rebound in the 10-year breakeven inflation rate since February 9th.
10-Y Breakeven Inflation Rate 2013-2016
I think there's some evidence that the pendulum of complacency on inflation has begun finally to swing back the other way. Core inflation is rising in Europe, the UK, Japan, and the US, and it was inevitable that someone would notice. Ironically, it took energy's rally to make people notice (and energy, of course, isn't in core inflation). But what do I care?
If in fact the pendulum of complacency and concern has finally reversed, then both stocks and bonds are in for a rough ride. Bonds may be marginally protected by a dovish Fed, but that only works as long as the inscrutable Fed stays dovish…or inscrutable.
Editor's Note:
Michael Ashton's new book
What's Wrong With Money? The Biggest Bubble of All
has been published by Wiley and is available from booksellers in hardback and e-book formats. You can also find it here. The book concerns the functions and weaknesses of money, the likely trajectory for inflation, and how investors can invest in an 'inflation-aware' way.
http://www.investing.com/analysis/the-pendulum-of-inflation-complacency-200126520