Gold Member
Gold Chaser
Sr Site Supporter
Joined

Jul 27, 2011
Messages

4,853
Likes

9,244
Location
I think the Deep State is in the process of re-organizing the lineup in its stable ... and the old, old whores are not happy submitting to the new, young whores ....
House Speaker Nancy Pelosi seems to be having a hard time accepting Rep. Alexandria Ocasio-Cortez being the "new face" of the Democratic party.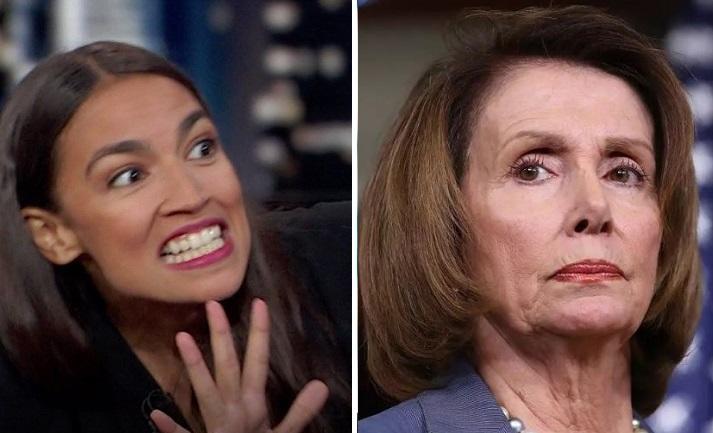 In a
60 Minutes
interview this weekend, interviewer Lesley Stahl asked Pelosi about whether the different factions within the Democratic party are fractured, singling out
Stahl: "You are contending with a group in Congress. Over here on the left flank are these self-described socialists. On the right these moderates. You yourself said that you're the only one who can unify everybody. And the questions is - can you?​
Pelosi: By in large, whatever orientation they came to Congress with, they know that we have to hold the center. That we have to go down the mainstream.​
Stahl: They know that?​
Pelosi: They do​
Stahl: But it doesn't look like that. It looks as if it's fractured.... You have these wings - AOC and her group on one side​
Pelosi interjects: "well that's like five people."​
The Congressional Progressive Caucus has 98 members, making it the
second largest group in Congress
, according to the
New NY Post
, which notes that AOC is one of the group's most prominent freshmen members.
Seven Democratic House members, including Ocasio-Cortez, are supported by the progressive political action the Justice Democrats, which Pelosi could also have been referring to.​
On several occasions now, Pelosi has downplayed any splits within her ranks — and also tried to dim some of Ocasio-Cortez's star power.​
"While there are people who have a large number of Twitter followers, what's important is that we have a large number of votes on the floor of the House," said Pelosi.
What's not to love Nancy?
https://www.zerohedge.com/news/2019...cs-progressive-posse-congress-its-five-people
Last edited: