Hope this don't affect your portfolio...
Court docs at ZeroHedge link im dateline
Rent-a-protester company "Crowds On Demand" sued in $23 million extortion plot
Tyler Durden
ZeroHedge
Tue, 23 Oct 2018 19:12 UTC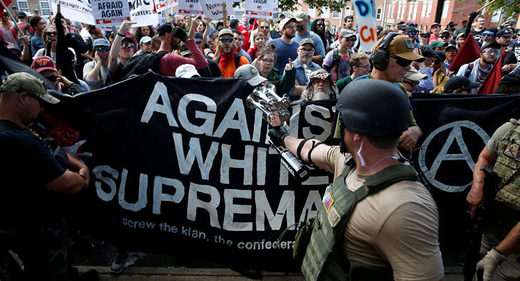 © Reuters/Joshua Roberts
"
Paid protesters are real
," writes the
Los Angeles Times
, after a lawsuit filed by a Czech investor against a business rival spotlighted
the seedy, and very real business of people hired to express fake outrage, support, and everything in between.
According to a lawsuit filed by investor Zdenek Bakala, Prague-based investment manager Pavol Krupa hired Beverly hills company Crowds on Demand (COD) to stage a protest near Bakala's home in Hilton Head, SC.
The dispute between Bakala and Krupa goes back for several years, and has been the subject of inquiries by the European Commission and the Czech government, involving a formerly state-owned coal mining business, OKD, which Bakala assumed control of in 2004. Bakala has been accused of bribing officials to buy the government's equity in the mining company at a below-market price, which broke a promise to sell company-owned apartments to employees before the company ultimately filed for bankruptcy in 2016.
According to Bakala, the COD smear campaign didn't stop there, claiming that the company also called and sent emails to the Aspen Institute and Dartmouth College, where Bakala sits on advisory boards, urging them to cut ties with him. Bakala claims that Krupa threatened to ramp up the COD campaign unless the Czech investor coughs up $23 million.
That said, it's not clear that Krupa's alleged campaign had the desired effect.
So paid protesters are a thing...
Bakala's lawsuit brings to light an ongoing debate in the national dialogue over paid protesters. President Trump, for example, has repeatedly claimed that protesters have been paid by left-wing billionaire activist George Soros and others in order to disrupt and undermine conservative events.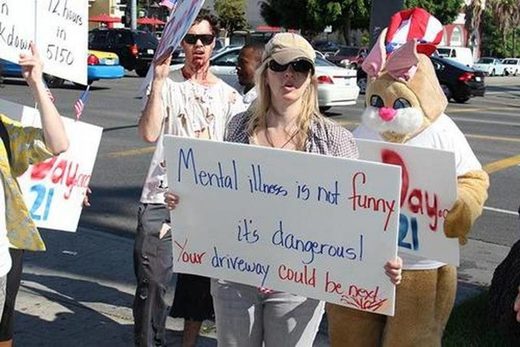 "There are hundreds of lobbying firms and public affairs firms that do this work, though not all in the same way," said USLA sociology professor Edward Walker - who wrote a book on the business of paid protesting, also known as Astroturfing. "Some only do a little bit of this grass-roots-for-hire, but things adjacent to this are not uncommon today."
In 2014, ABC's
Nightline
reported that a group backed by the beverage industry was hiring people to protest a soda tax measure - posting ads on Craigslist for paid protesters at $13 an hour.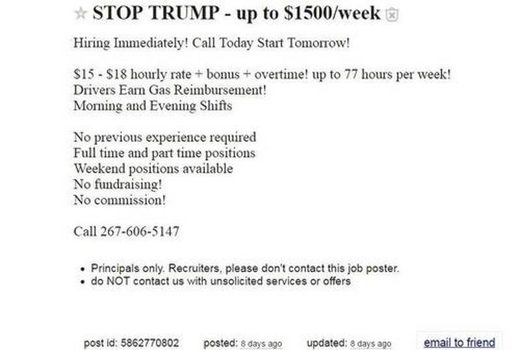 © Craigslist
During the confirmation hearings for Supreme Court Justice Brett Kavanaugh, many noted what appeared to be a man, Vinay Krishnan - who works for progressive activist organization
Center for Popular Democracy
, paying a woman named Vickie Lampron who was later seen in the Kavanaugh hearing.
​
Krishnan said that the money was given to people to pay fines in case they were arrested.
As the
Times
notes, paid protesters aren't a recent phenomenon.
In another "case study," COD brags about staging a rally to support an unidentified foreign leader who was visiting the United Nations.
"The concern was ensuring that the leader was well received by a U.S. audience and confident for his work at the U.N. We created demonstrations of support with diverse crowds.," says COD.
"A lot of times, companies don't want to be known for using this kind of strategy," Walker said. "Crowds on Demand, they're more out about it. ...
It is strikingly brazen.
"