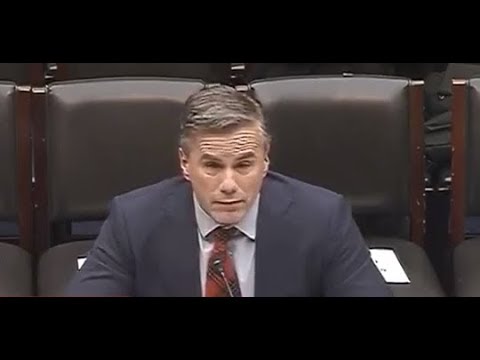 Notes and quotes from Tom Fitton's Congressional testimony on Clinton Foundation 12-13-18
[Introduces Judicial Watch and their ongoing concerns about the Clinton Foundation.]
JD also had concerns about HRC becoming SOS.
She agreed not to participate in any matter in which CF were a party or represented a party. Also agreed that all matters that might involve such a conflict would undergo a State Dept ethics review, especially those concerning foreign governments.
JD had "zero confidence" that these promises would be kept and began monitoring the process. Filed a FOIA in 2011 to see how that process was being implemented; this was ignored, so they filed suit and found in 2013 that Bill Clinton gave 215 speeches earning $48mil during the time that HRC was SOS; none were deemed a conflict of interest. The State Dept approved speeches in many different countries, includes China, Russia, and Saudi Arabia. Egypt,UAE, Panama, Turkey, Taiwan, India, Cayman Islands and other countries. These approvals were routinely copied to Cheryl Mills, who had helped negotiate the ethics process; her involvement raised conflict-of-interest issues.
Documents showed that Bill Clinton recieved between $18mil-50mil just from Saudi companies. He also earned $600,000 for two speeches given in Saudi Arabia….so this ethics process was no more than a rubber stamp hat allowed him to receive money from foreign companies that were too often controlled by their governments. For example, Clinton was approved to give a speech for Renaissance Capital, which was linked to Russian government and Uranium One. "Approved without comment."
"And then, we found the Clinton e-mail server"
JD FOIAs & lawsuits forced State Dept to admit they have new emails they hadn't revealed. Human Abedin also used this server, who needed it to conduct the Clinton's personal and familiy business. Later, JD found out that CF was in contact with Abedin and others in the State Dept to get special favors and treatment for CF friends and allies….
"So you can see that the Clinton Foundation and Clinton State Dept almost immediately broke promises to the Obama and the Senate to maintain a wall of separation between the Foundation and the State. We have numerous instances of pay-to-play and favoritism for Clinton Foundation supporters with the Clinton State Dept…."
"Many have noted that it was hard to tell where the Clinton State Dept ended and where the Clinton State department began"….
And then there's the Uranium One controversy…There were monies funnelled into the Cinton Foundation in 2010…and these monies were hidden from the American people. The Foundation promised to disclose these monies: $31.3mil was given to the CF around the beginning of 2008….
Both the NYT has reported that Uranium One's chairman used his family's foundation to make four undisclosed donations totalling $2.35mil to the Clinton Foundation. None of this was disclosed. Shortly after the Russian's disclosed their intention to acquire a stake in Uranium One, Bill Clinton received $500,000 for the speech fee from Renaissance Capital he gave in Moscow.
JW is still trying to get docs from Uranium One. It has not yet been successful.
"But there's enough evidence to warrant serious investigations of the Clinton Foundation. And there is evidence that …the investigations that may have been taking place during the Obama administration were suppressed by the Justice Dept. So frankly it's not surprise that the Justice Dept. is not here today. I look forward to your questions today."
https:
//
www.youtube.com/watch?v=6TWf1-odzzo
"We have the server"