More Rickard's hype or
reality
?
The following interview with CIA financial-threat analyst Jim Rickards occurred recently at a secure location in Washington, D.C. All facts have been verified.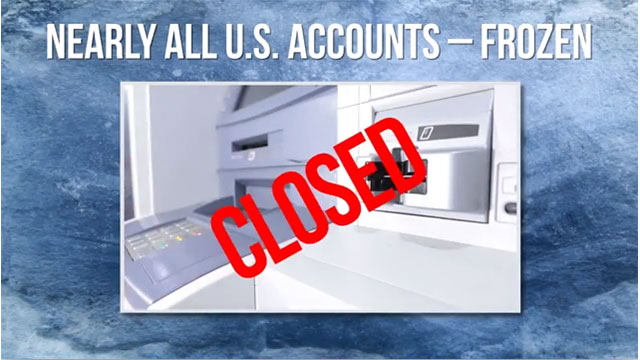 John Burke: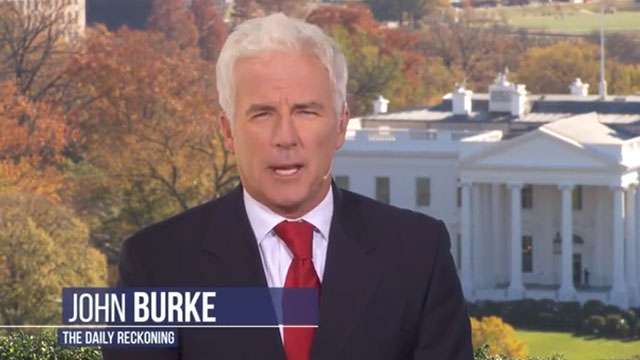 Hello. I'm John Burke for the Daily Reckoning. We are coming to you today from our perch overlooking the White House in our nation's capital. Welcome to this emergency briefing with Jim Rickards, financial threat and asymmetric warfare [00:01:30] advisor to the White House, Pentagon, and CIA. Rickards joins us today with an urgent warning, one he hopes all Americans will heed. According to Jim Rickards and members of the US Intelligence community, the time to prepare has arrived.
Mr. Rickards, welcome to our broadcast.
Jim Rickards:
My pleasure, John. Thank you for having me.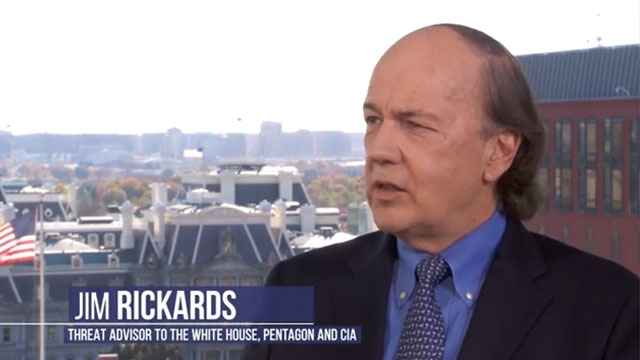 John Burke:
Now your team has identified a network of elite operatives, and they have wormed their way into many of the most powerful financial institutions on earth. This list includes [00:02:00] the International Monetary Fund, the Bank of International Settlements, the World Bank, the United Nations, and every central bank in the G20, including our own Federal Reserve. When the signal sounds, you've predicted that this network will pull the plug on the global financial system. That will cause every bank, brokerage, and business to go dark in a massive coordinated attack. Their latest hit list, if you will, includes some 5,967 [00:02:30] banks, such as Wells Fargo, Citigroup, and JP Morgan Chase, but they won't stop at the banks.
These elite operatives will move to take control of approximately 3,800 asset managers as well. Jim, you expect to see them seize control of Blackrock for nearly $5 trillion dollars, Fidelity for $2 trillion, Vanguard for $3 trillion, and UBS and State Street for a combined $5 trillion or so. When the freeze comes, citizens nationwide will lose access [00:03:00] to their money almost instantly. No cash will be allowed to enter or exit the system without the network's approval, and Donald Trump's presidency will not likely survive the chaos about to ensue.
Before we get to the details about this, I want to remind our viewers of your background, Jim. In the 1970s, you helped the White House to craft the Petrodollar Accord. Your actions helped to save the US dollar, and the oil embargo, and sidestep war in the Middle East. [00:03:30] In 1981, you helped the Reagan administration negotiate an end to the Iran hostage crisis, saving 53 American lives. In the 1990s, you helped the Fed wind down long-term capital management, averting a collapse of the global financial system. After 9/11, the CIA recruited you to assist on a counter terrorism project called Project Prophecy. You created a system to detect terrorist attacks before they happened by decoding complex financial signals. [00:04:00] In 2006, Prophecy detected a looming terrorist attack in London. Officials were able to intercept the attackers, saving countless lives. That same year, you began warning our intelligence officials in Washington of a looming financial crisis.
In September of 2006, the CIA circulated your warning among its senior staff. Your full thesis appeared in the CIA's official journal, Studies in Intelligence. That material remains classified; however, [00:04:30] on August 24, 2007, you shared the same warning with officials from the US Treasury Department. You even supplied Treasury with a plan for averting the crisis called Proposal to Obtain and Manage Information in Response to Capital Markets Crisis. Unfortunately, Washington failed to act on your warnings in time. The result was the worst financial crisis since the Great Depression.
Keep reading here:
Source:
https://pro.agorafinancial.com/p/AWN_icenine_0117/PAWNT210/Full?h=true