Hillary Holds Voter Registration Drive in West Philadelphia – Why?…
Posted on
August 16, 2016
by
sundance
Today Hillary Clinton remains campaigning in Pennsylvania. Yesterday Vice President Joe Biden and Hillary Clinton campaigned in Scranton, a few hundred people showed up.
Today, Hillary held a
voter registration campaign event
in a High School gym in West Philadelphia – the attendance/turnout was essentially the same.
What's going on?
Where are all these Clinton supporters the national media keep talking an polling about?
The answers are really quite simple. They're in the same place they were during the 2016 Democrat primary race.
Take a close look at the prior election turnout results:
In 2008 38,111,341 (38.1 million) democrats voted in the primary race between Hillary Clinton and Barack Obama. [There was no dem primary in '12]
Despite the media selling a narrative that the 2016 Democrat primary was motivating voters, the reality of the truth begs to differ.
In 2016 Total Democrat Turnout was 30,625,871 (30.6 million). That's a stunning 20% decrease from 2008. …And it gets worse.
If you back out the 2016 California primary voters (Clinton -v- Sanders as a hotly contested battle of liberal ideologies), that removes 5.1 million primary votes. Leaving a total of 25.4 million primary voters. A stunningly low number of Democrats voted in the primary.
This low primary interest is clear evidence of the complete lack of enthusiasm for the Democrat side of the ticket; and this is despite the media hype 24/7 to manufacture a completely false impression.
Now go and look at the graph again:
2008 Republican primary turnout was 21,971,470 (21.9 million)
2012 Republican primary turnout was 19,214,513 (19.2 million)
2016 Republican
primary turnout
was 31,169,714 (31.1 million)
Yes, that's correct. The 2016 total GOP turnout 31.1 million, was greater than the total DEM turnout 30.6 million.
That's a 62% increase in Republican primary voting over 2012 (31.1 million -vs- 19.2 million). That's a lot of enthusiasm on the GOP side of the ticket.
2016 is the first time in presidential history that Republican Primary voters numbered more than Democrat primary voters [during an open (no incumbent) presidential election.]
If you take out the California primary numbers from both parties [2.2 million (R) and 5.2 million (D)] The total primary vote is even more stunning. W/Out CA:
28,902,408 voters chose a republican
25,452,523 voters chose a democrat
Remember, historically Democrat turnout has crushed Republican turnout in primary elections. However, this year, for the first year, more votes were cast on the GOP side of the ticket than the DEM side.
Why is this important?
Every single poll uses "turnout" modeling and "party affiliation" modeling as part of their methodology and equation when they are turning poll respondent answers into actual poll data that is released.
Based on the primary results [31.1M (R) -vs- 30.6M (D)] there should be a slight edge to Republicans (R +1%) in every national poll *if the General Election is modeled on the primary turnout. However, not a single poll does this.
Another consideration. The increase between primary voters and general election voters is
pretty consistent over multiple elections
.
In 2008 the Democrat increase in vote participation (primary to general) was an increase of 74.69%.
38,111,341 primary voters (Clinton V Obama)
66,578,783 general election voters (Obama)
Diff + 28,467,442 (+74.69%)
In 2008 the Republican increase in vote participation (primary to general) was an increase of 164.58%
21,971,470 primary voters (McCain v Romney)
58,132,353 general election voters (McCain)
Diff +36,160,883 (+164.58%)
In 2012 the Republican increase in vote participation (primary to general) was an increase of 208.06%
19,214,513 primary voters (Romney vs Gingrich)
59,193,587 general election voters (Romney)
Diff +39,979,074 (+208.06%)
If you want to be heavily conservative and transpose 2016 general election prediction based on the 2016 primary results – Give Hillary a +75% increase (full Obama), and Give Trump +100% (that's half of the normal GOP increase)
Candidate – – – – – – – Primary Votes – – – GE Projected Lift – – General Election Votes
Clinton ……………….. 30,625,871 x 75% = 22,969,403 53,595,274
Trump ………………… 31,169,714 x 100% = 31,169,714 62,339.428
What's outlined there assumes: Hillary Clinton can capture the voter enthusiasm of Barack Obama in 2008 (jaw-droppingly unlikely), and Donald Trump can capture half of the enthusiasm of Mitt Romney (gobsmackingly most likely).
So do you see how the fundamental election landscape is factually set up to be the exact opposite of what the media is selling. The underpinning of the election landscape is the mirror image of the narrative the media sells daily.
Many would argue that's too simplistic and the electoral college is based on individual states not total popular vote. However, I like
K.I.S.S
. because it's rarely wrong, and when you look exclusively for voter enthusiasm and candidate engagement, the same statistics come out of key battleground states.
Total Primary Votes:
Virginia: 1,025,452 voted republican. 785,041 voted democrat.
Pennsylvania: 1,594,475 voted republican. 1,681, 427 voted democrat.
Ohio: 1,988,960 voted republican. 1,241,478 voted democrat.
Florida: 2,361,805 voted republican. 1,709,183 voted democrat.
Michigan: 1,323,589 voted republican. 1,205,552 voted democrat.
It really doesn't matter which state you look at, the results are almost identical. There's no anomalies within the data, it is what it is. Any poll can be used to deliver the answer you want to read within it; any set of statistics can also be used in a similar fashion. However, the bottom line is there's more voter engagement on the GOP side of the binary contest.
That's just a simple fact.
That's also why Hillary Clinton is holding a registration drive in West Philadelphia, because the rest of the state is in an epic landslide in favor of Donald Trump. The high population urban center of Philadelphia is Clinton's "only" hope of winning Pennsylvania.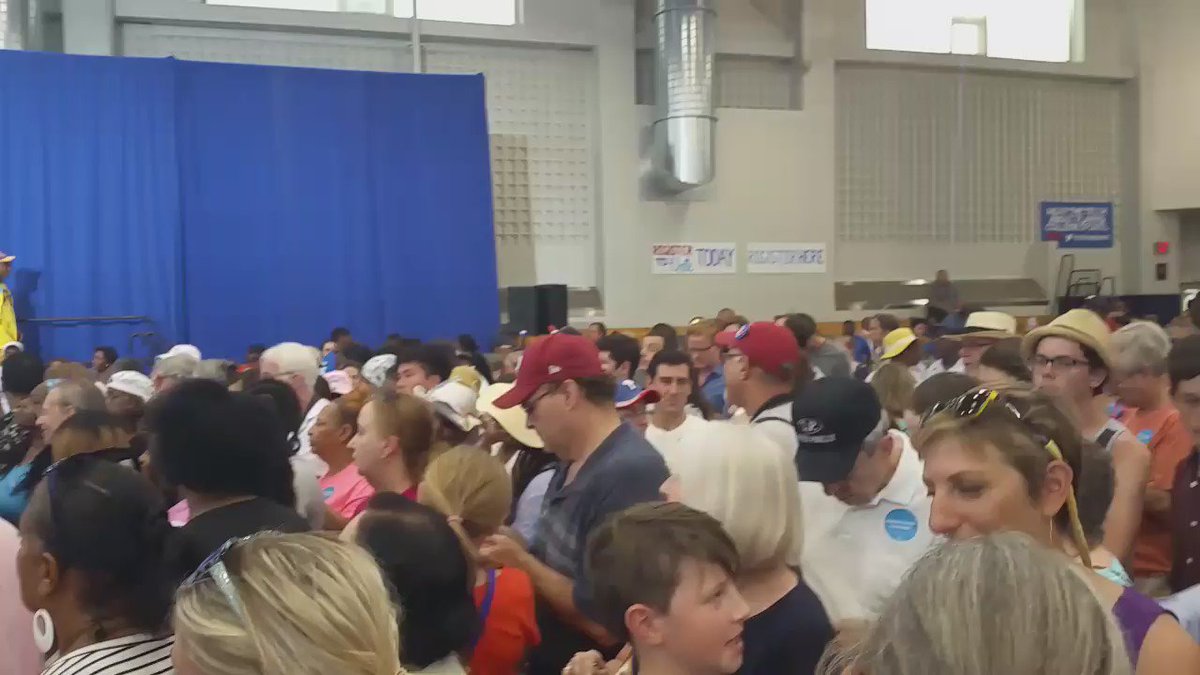 Follow

Jack Posobiec❌ @AngryGoTFan
EMBARRASSINGLY LOW TURNOUT FOR HILLARY IN DEMOCRAT STRONGHOLD PHILADELPHIA
I've made a lot of phone calls in the past two days. Every state's ground reports are identical to the primary modeling outlined above. The media is presenting a totally false view of the race.
The media is so severe about their position because the reality is so fundamentally against the outcome they desire. If you doubt your own commonsense, go back and look at the Trump -vs- Clinton rallies in Erie, Scranton, Altoona etc.
Erie:
Scranton:
Reading
Altoona:
It's not going to be close folks. It won't even be close:
When Clinton stops spending in Pennsylvania it's not because she has it in the bag, the exact opposite is true. It's because further spending is futile….
There is zero enthusiasm for inauthentic Hillary Clinton. None.
https://theconservativetreehouse.co...-registration-drive-in-west-philadelphia-why/