Midas Member
Midas Member
Site Supporter ++
Joined

Mar 15, 2011
Messages

11,100
Likes

17,995
Location
Herself and I just now got back frp aw <-- That was Fuzzy, jumping up on my lap (I type around her). Where was I? Oh, yeah -- we had gone across to the pond where we toss ukky white bread to the fishies, and as we approached, of course the fishies started jumping -- totally tame/wild fish. Tilapia.
But what we were engrossed in was a huge
komodo dragon
Iguana sunning and stretching down a bunch of boulders not 20 feet away. They change color when they are sunbathing, and this one was exactly the color of the weathered rock. Herself could not see it. She is
terrible
at hunting.
Anyway, she saw the thing move and was able to see it was over four feet long. Know what she said? Calm as could be:
"Doesn't look that big to me."
At that exact moment, as I was basking in the glory of a life-mate who was not in the least disturbed by a prehistoric monster climbing down toward her...
...I felt a
nudge
on my foot. I looked down to see a big ole turtle begging me for a snack from the breadbag. Nudging me with his nose, and looking up hopefully.
Herself and I both burst out with surprised laughter. I quickly tore a chunk of bread off and held it out to the turtle. He hustled over and gently took it from my fingers. Then he turned around and ran for the water to soak the bread at the edge. That was "Paint".
He passed Softie, who coming up out of the water. Softie is very tame, also. But he does not play well with others when it comes to sharing. Here's a Softie: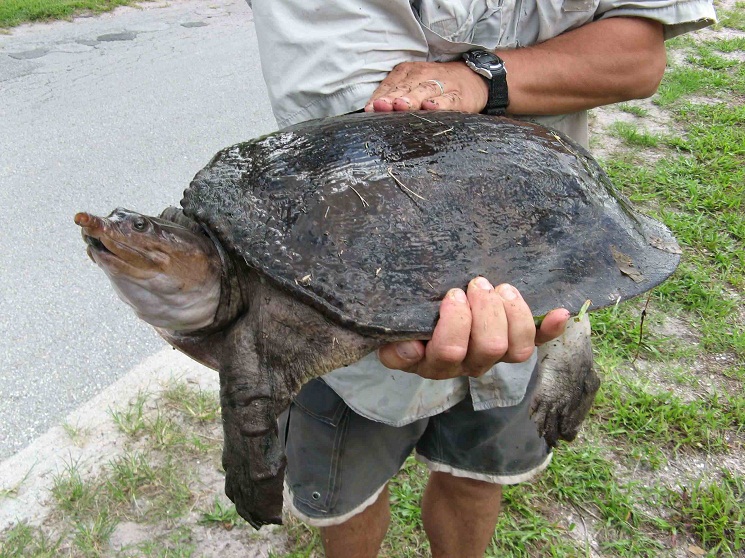 On the plus side, he is adorable. Pointy nose (and he spits water through it), feet like a duck, and harmless.
By the time the loaf of bread was divvied up between fish and other oddities, we had four turtles of three different species out of the water following us. We had to shoo them back in the water.
I love it here. A peacock is in view, in "full flower" as I type this. Oh. It is 75 and breezy. Puffy clouds.
Now if I can just get this giant rat cornered, maybe Fuzzy and I could get out of here.