Скорпион
Founding Member
Board Elder
Site Mgr
Sr Site Supporter
Joined

Mar 25, 2010
Messages

24,558
Likes

27,342
Why Is The Cost Of Living So Unaffordable?
Charles Hugh-Smith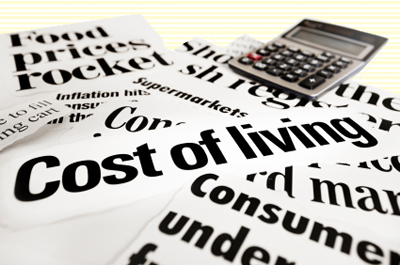 Strip away the centralized power that protects and funds cartels, and prices would plummet.
The mainstream narrative is "the problem is low wages." Actually, the problem is the soaring cost of living.
If essentials such as healthcare, housing, higher education and government services were as cheap as they once were, a wage of $10 or $12 an hour would be more than enough to maintain a decent everyday life.
Here are some examples from the real world.
In 1952,
it cost $30 to have a baby in an excellent hospital
. If we adjust that by official inflation as measured by the Bureau of Labor Statistic's
inflation calculator
to 2017, the cost would be $275. ($1 in 1952 = $9.16 in 2017).
What does it cost to have a baby delivered in a hospital today? $5,000? $10,000? Who even knows, given the convoluted billing process in today's sickcare system?
The pharmaceutical cartel jacks up medication costs per dose from $3 tp $600, even when the medication has been around for decades:
the
Pinworm prescription jumps from $3 to up to $600 a pill
Parents, doctors angry over drug price gouging (via John F.)
My father paid 1.8% of his wages for "hospital group insurance" in the early 1950s (for a household of four kids and two adults.) For someone earning $1,000 a week, the equivalent today would be $72 a month out of a monthly gross income of $4,000.
My spouse and I pay $1330 a month for barebones healthcare insurance in today's sickcare system. Factor out subsidies paid by the employer or state, and minimal healthcare insurance costs tens of thousands of dollars per household annually.
Here's a chart that illustrates the breathtaking rise in healthcare costs.
Wages are the nearly flat line: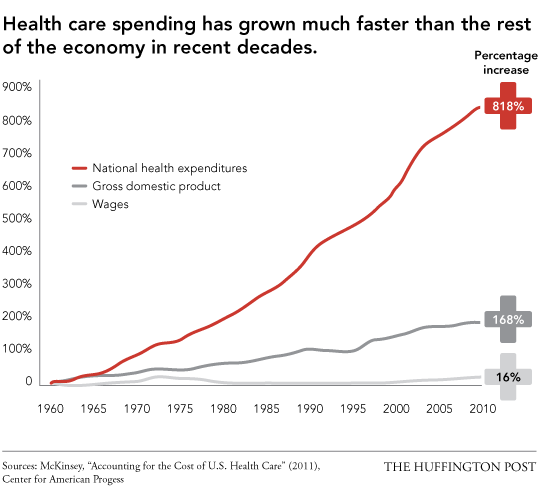 In the early to mid-1970s, my university tuition was $89.25 per semester (the University of Hawaii was a two-semester system), and student fees were $27 a semester, for a grand total of $232.50 per year. Books added another $170 per year, for a total cost of $400 to $450 for a university education.
$1 in 1975 = $5.51 today, so if tuition, fees and books had gone up along with official inflation, it would now cost $1,800 to $2,000 to attend a large state university annually--including tuition, fees and books.
An entire 4-year university education would cost $8,000.
Instead, students now borrow $50,000 and up just to attend state university.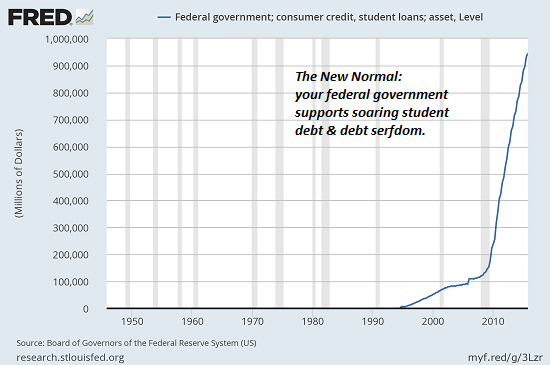 I've covered the skyrocketing cost basis of everyday life for a decade:
Lowering the Cost Structure of the U.S. Economy
(August 29, 2008)
My recent exploration of soaring costs for everyday items,
The Burrito Index: Consumer Prices Have Soared 160% Since 2001
(August 1, 2016), received quite a bit of interest, along with the companion piece on the source of much of the higher costs:
Inflation Hidden in Plain Sight
(August 2, 2016)
Can we be honest and say that many of the reductions in value, quantity and quality are actually instances of fraud?
No Wrongdoing Here, Just 6,300 Corporate Fines and Settlements
(May 2015)
Here's a snapshot of urban rents.
Recall that wages for the bottom 90% have been flatlined for decades.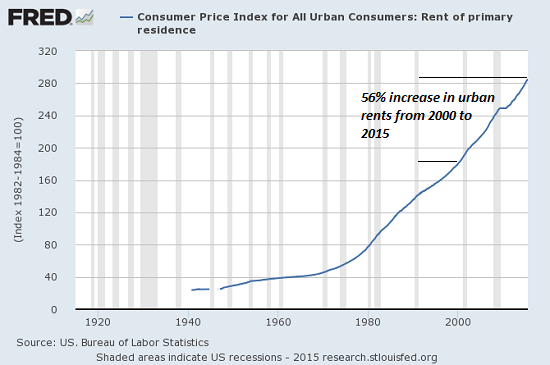 Apologists claim these services have improved greatly in the past 30, 40 and 50 years, but this is only occasionally valid; university education, housing, burritos and conventional preventative care have often declined in quality and quantity, not gotten better.
Other apologists claim that Baumol's Cost Disease explains all these tremendous increases in price; while this may be a factor in some price increases, it is more an excuse than an explanation.
Here's what's going on: cartels that have government backing can jack up prices at will, year after year, decade after decade, while wages have stagnated.
Cartels have zero pressure to raise wages, while their immense profits fund vast propaganda/public-relations machines that translate into equally vast political influence.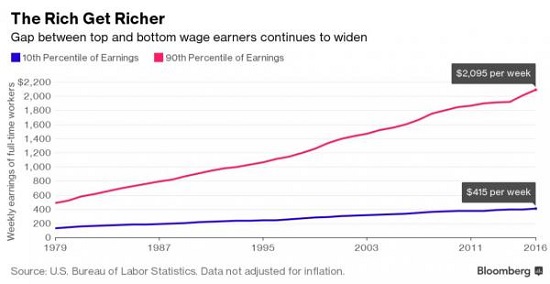 Have you ever seen a non-profit foundation or a politico that didn't support "more funding for healthcare and higher education"?
Of course not. The healthcare, defense industry, Federal Reserve/banking sector and higher education cartels are all entrenched and self-serving.
The cartels have unlimited power to raise their prices, while the average wage-earner has essentially zero power to create non-cartel alternatives or influence central-state/central bank support of rapacious, parasitic cartels.
The "consumer" is supposed to have power, but that power only exists in an environment that enables level playing fields and transparent competition.
Cartels buy political influence so the central state protects their pricing power and funds their
rentier skims
.
Strip away the centralized power that protects and funds cartels, and prices would plummet.
I explain how this would work in higher education in my book
The Nearly Free University and the Emerging Economy: The Revolution in Higher Education
. The same dynamics would radically transform the cost structure of housing, healthcare, defense and everything else currently controlled by monopolies or cartels.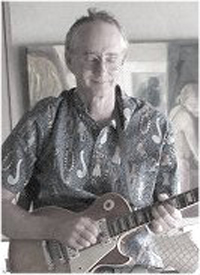 At readers' request, I've prepared a biography. I am not confident this is the right length or has the desired information; the whole project veers uncomfortably close to PR. On the other hand, who wants to read a boring bio? I am reminded of the "Peanuts" comic character Lucy, who once issued this terse biographical summary: "A man was born, he lived, he died." All undoubtedly true, but somewhat lacking in narrative.
I was raised in southern California as a rootless cosmopolitan: born in Santa Monica, and then towed by an upwardly mobile family to Van Nuys, Tarzana, Los Feliz and San Marino, where the penultimate conclusion of upward mobility, divorce and a shattered family, sent us to Big Bear Lake in the San Bernadino mountains.
The next iteration of family took us to the island of Lanai in Hawaii, where I was honored to join the outstanding basketball team (as benchwarmer), and where we rode the only Matchless 350 cc motorcycle on the island, and most likely in the state, through the red-dirt pineapple fields to the splendidly isolated rocky coastline. In 1969-70, this was the old planation Hawaii, where we picked pine in summer beneath a sweltering sun.
We next moved to Honolulu, where I graduated from Punahou School and earned a degree in Comparative Philosophy (i.e. East and West) at the University of Hawaii-Manoa. The family moved back to California and I stayed on, working my way through college apprenticing in the building/remodeling trades.
I was quite active in the American Friends Service Committee (Quakers) and the People's Party of Hawaii in this era (1970s).
I next moved to the Big Island of Hawaii, where my partner and I built over fifty custom homes and a 43-unit subdivision, as well as several commercial projects.
Nearly going broke was all well and good, but I was driven to pursue my dream-career as a writer, so we moved to the San Francisco Bay Area in 1987 where I worked in non-profit education while writing free-lance journalism articles on housing, design and urban planning.
Within a few years I returned to self-employment, a genteel poverty interrupted by an 18-month gig re-organizing the back office of a quantitative stock market analyst. I learned how to lose money in the market with efficiency and aplomb, lessons I continue to practice when the temptation to battle the Monster Id strikes.
Somewhere in here my first novel was published by The Permanent Press, but alas it fell still-born from the press--a now monotonous result of writing fiction. (Seven novels and I still can't stop myself.)
I started the Of Two Minds blog in May 2005 as a side project of self-expression, and in an unpredictable twist of evolutionary incaution, that project has ballooned into a website with about 3,500 pages that has drawn almost 20 million page views.
The site's primary asset may well be the extensive global network of friends and correspondents I draw upon for intelligence and analysis.
The blog is #7 in CNBC's top alternative financial sites, and is republished on numerous popular sites such as Zero Hedge, Financial Sense, and David Stockman's Contra Corner. I am frequently interviewed by alternative media personalities such as Max Keiser, and am a contributing writer on peakprosperity.com.
charleshughsmith.blogspot.com
http://www.silverbearcafe.com/private/03.17/unaffordable.html